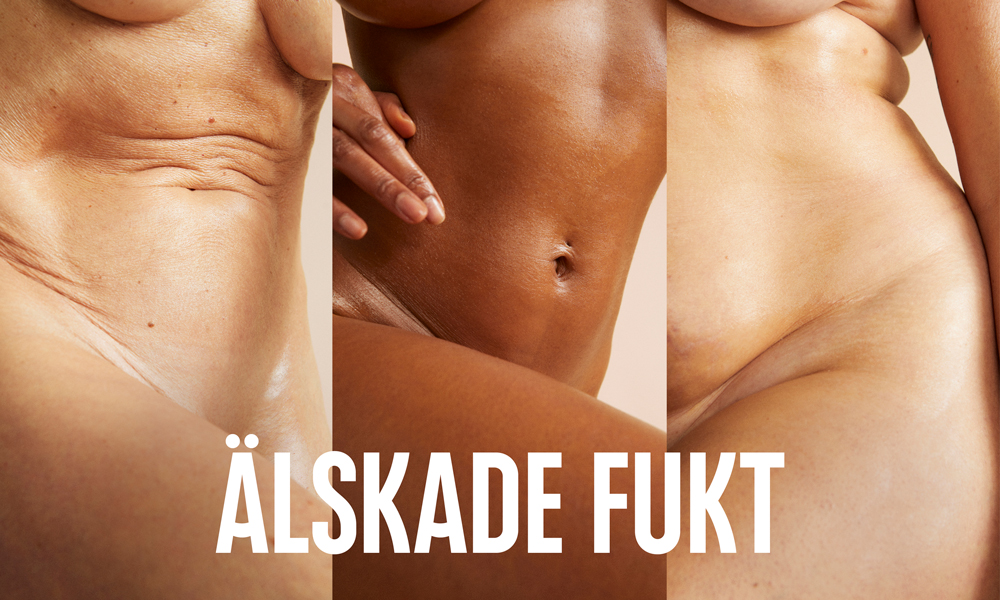 Dry mucous membranes? Find out what a little moisture can do
Category:Intimate health
Who suffers from dry mucous membranes? Women of all ages actually, because vaginal dryness is not just an age problem. It can occur temporarily or over a longer period of time and the problem can occur daily or periodically. The cause can be stress, hormonal influences or something as simple as a sanitary pad that has chafed.
Dry mucous membranes can be experienced in many different ways. It can be experienced as a feeling of dry skin and irritation around the external genitalarea, you can have irritation in the vaginal opening or also feel a general dryness in the vagina. All these problems can make sex feel less pleasant.
MOISTURE FOR SENSITIVE AND DRY INTIMATE AREAS
Klick by RFSU is a series of care products that provide extra moisture. We know that desire and lubrication do not always go together and sometimes the body's own lubrication may need some help along the way, even though you may still be aroused. At such times, extra moisture from a lubricant can give you a nice feeling of wetness. Klick's lubricant is sensitive and suitable for those who experience dry mucous membranes or sensitive intimate parts.
In case of irritation in the external virginal area, discomfort can be prevented by using an intimate cream or an intimate oil. Our intimate care duo, Klick Intim Cream and Klick Cleanse Intimate Oil are moisturizers and give you a nice, soft feeling all day long.
All the products in the Klick series are perfume-free, gynecologically and dermatologically tested and contain no animal ingredients.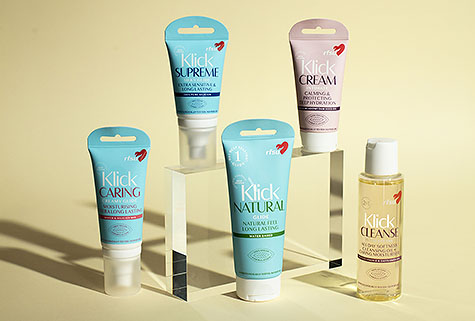 WHEN THE WILL IS THERE BUT THE MOISTURE ISN'T
Why do you get dry mucous membranes?
Lust and lubrication don't always go hand in hand. During certain periods in life, such as at times of stress, or during hormonal changes during pregnancy or menopause, for example, our genital areas can become more sensitive and dry.
It can be felt by sweating and irritation during sex and you don't get as naturally wet as before or that it takes longer – even if you are excited.
Extra moisture for dry mucosa
Lubrication is the body's natural moisture and is a protection to reduce friction during sex, but it does not always come in the amounts you want it to. At such times, a little extra moisture in the form of lubricant can do wonders.
Lubricant moisturizes, protects, reduces friction and can give you a nicer feeling during sex, masturbation or when you're using sex toys. Klick's lubricants are available in different consistencies, each of which provides you with a different feeling.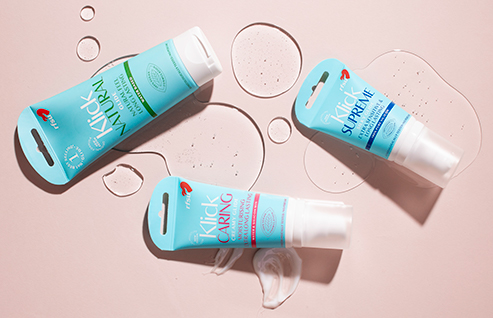 What feeling are you after?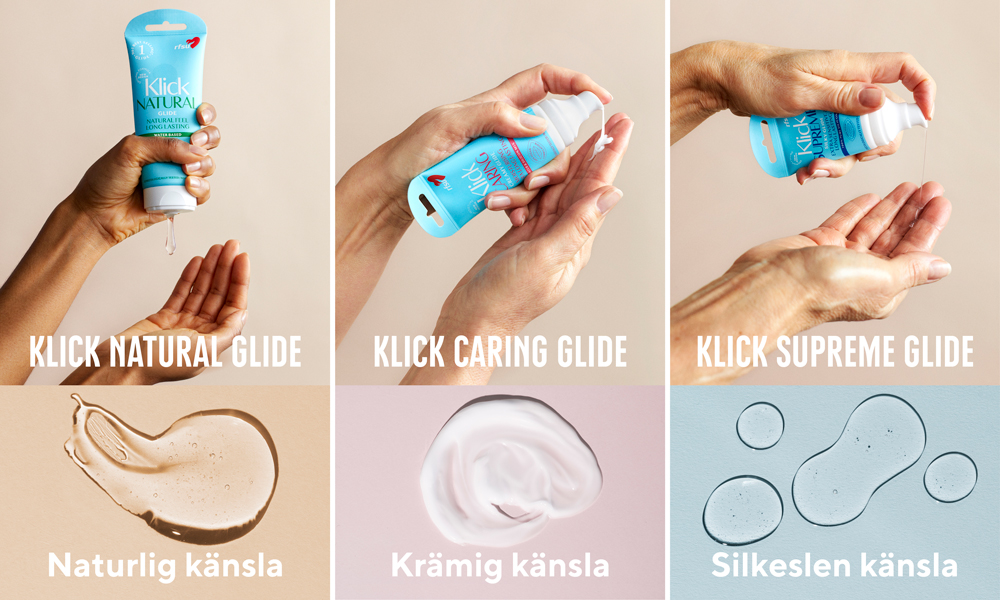 Klick lubricants provide a natural, creamy or silky feeling.
Klick Natural Glide: Similar to the feeling of your own natural moisture. A water-based lubricant that gives a natural feeling of hydration and a slippery effect.
Klick Caring Glide: Creamy and caring feeling. A mix of water- and silicone-based lubricant with comforting and extra moisturizing ingredients
Klick Supreme Glide: Silky smooth and protective feel. 100% silicone-based lubricant that provides a silky-smooth protective film and long-lasting hydration.
Klick's intimate care duo – for a softer feeling all day long
FOR DAILY INTIMATE CARE FOR DRY AND SENSITIVE INTIMATE AREAS
Anyone can experience chafing, irritation and small sores in the vagina at one time or other,  regardless of age. It can be temporary or long-term. The cause could be a damp sanitary pad that chafes, tight trousers, a vaginal infection that itches, or dry and fragile mucous membranes.
In these situations you may feel a need for emollient and moisturizing products that soothe the skin and are suitable for daily intimate care.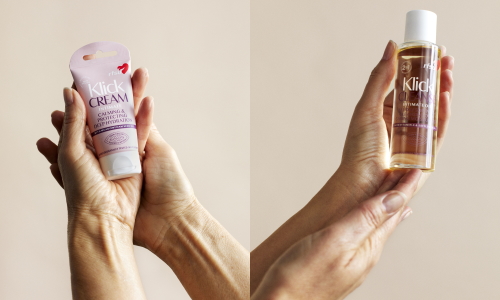 A NEW TYPE OF INTIMATE OIL
Klick Cleanse Intimate Oil is a softening intimate oil that protects the sensitive genital area. The oil is uniquely adapted to be used both as a gentle washing oil in the shower and as a nourishing oil that can be rubbed onto the skin if necessary.
It leaves an ultra-light protective film for a softening sensation that lasts all day long
DAILY MOISTURIZING CREAM FOR YOUR VAGINA
Klick Intim Cream is an intimate cream for the vagina that softens, moisturizes and relieves irritation.
The intimate cream has a low pH value and contains lactic acid, which helps to maintain an optimal intimate flora and thereby prevent infections.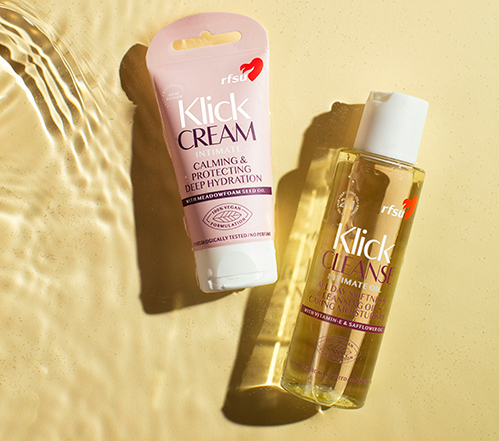 Last updated: 2023.06.07