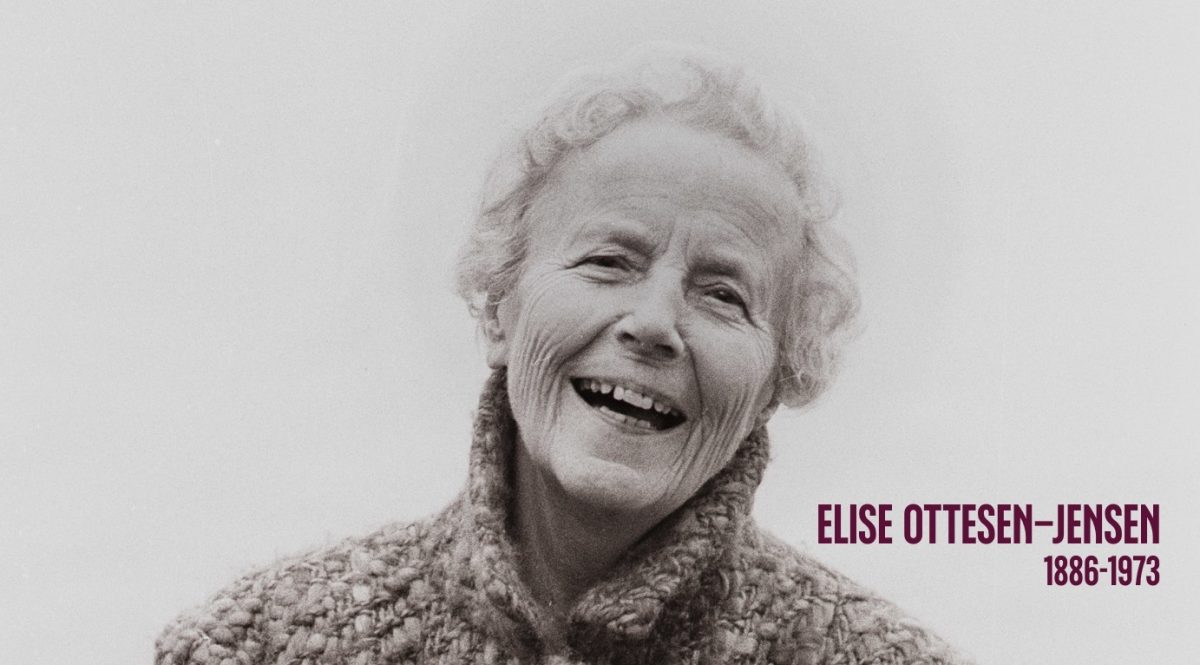 RFSU'S HISTORY
It all began in 1933
"I dream of the day when all children born are welcome, all men and women are equal and sexuality is an expression of intimacy, tenderness and pleasure."
The words are from Elise Ottesen–Jensen, who started the National Association for Sexual Education – RFSU in 1933. The right to abortion and contraceptives, sex education in schools and the decriminalization of homosexuals were just a few of the issues that "Ottar" and her colleagues fought for.
To finance the controversial business, they started selling condoms – and that's still how it works today, 90 years later. In the beginning, the RFSU ran its fight for enlightenment, justice and change against strong opposition, but eventually their work led to major changes and even changes to the law.
Our timeline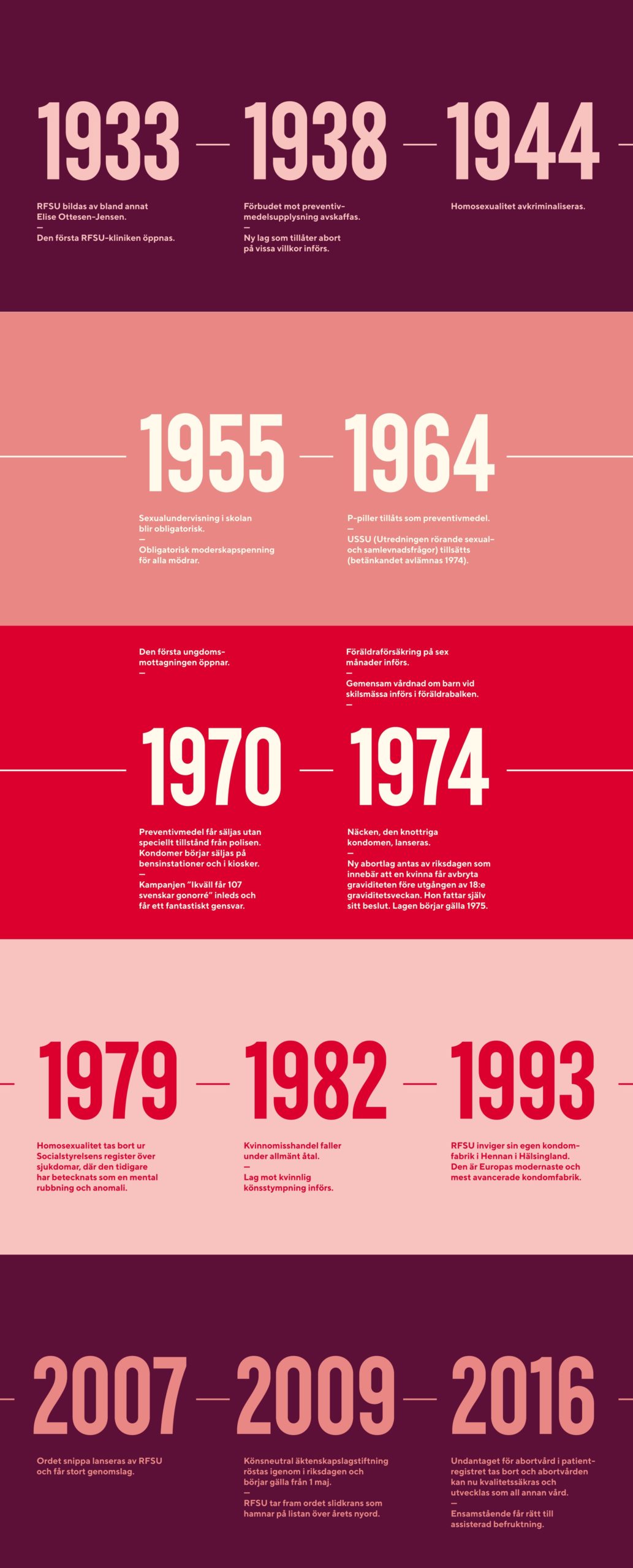 BLOMMOR OCH BIN STORES
From import ban to 36 shops
It was strictly forbidden to import condoms into Sweden until 1937. You were not even allowed to mention that such contraceptives existed or inform people about how to use them. In 1937, the import ban on condoms was lifted and RFSU AB opened its first store. It was a healthcare store where, among other things, they sold gastric bands, hernia bands, urine glasses, plasters, heating pads, sunscreens, support stockings, camel hair insoles, foot pads and of course condoms, (but very discreetly under the name "controlled goods").
By the late 60s, RFSU had 36 healthcare businesses from Malmö in the south to Umeå in the north. However, the customers were getting older and young people ignored the shops, which were usually located in boring back streets. The idea of ​​a new type of store that was radically different from a regular RFSU store was born. The intended target group was mainly young people, between 15-30 years of age, of both sexes.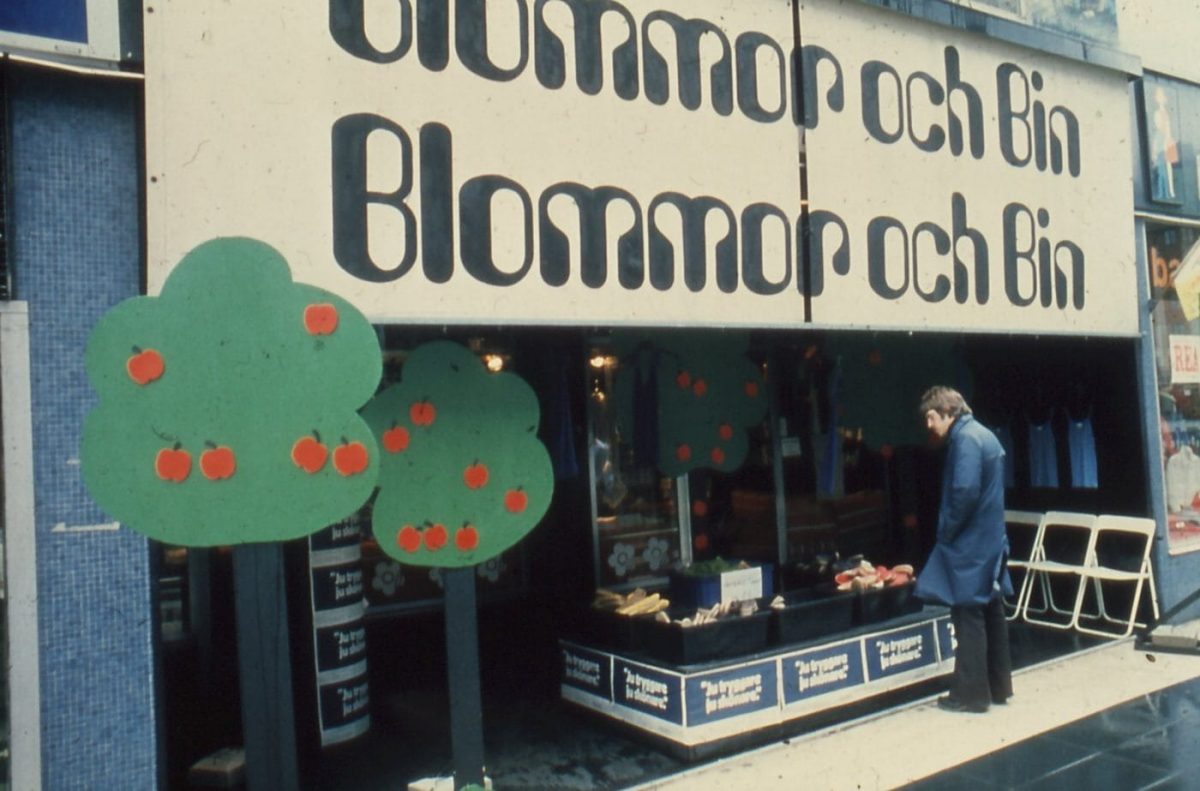 The 70s, and our own clothes designers
RFSU founded the Blommor och Bin chain of stores in 1969, when Flower Power was at its peak. This happened, among other things, based on these healthcare businesses, which were moved to more well-visited business areas. A 70s classic was born. The camel wool was replaced with jeans and T-shirts and the atmosphere of the store provided a breathing space for young people who needed somewhere to go without feeling pressured to buy. In addition, people could get hold of information through literature and brochures.
RFSU had its own clothing designers, such as Nina Wahlgren and Barbro Grytnäs Ersdotter. The discreet condom packaging was refreshed and given a colorful, humorous and highly visible makeover. The Blommor och Bin stores were a huge success and at its peak RFSU ran 38 stores around the country. The very first Blommor och Bin shop was located at Hötorget in Stockholm.In 1984, the stores were all sold, but they had made a big impression on people's minds. Even today, RFSU still receive calls from consumers asking about Blommor och Bin stores.
The stores contributed strongly to a larger market share
The stores contributed strongly to a larger market share
In 1968, RFSU had only 8 percent of the condom market and therefore needed to strengthen its position as a condom supplier. The stores contributed strongly to building our brand and, together with several successful and attention-grabbing campaigns, we have increased our market share to approximately 90 percent today.
POSTAL ORDER SALES
RFSU was formed in 1933 and, very soon after that, a sales organization, Sexualhygiene u.p.a., was created. The aim was to obtain the best possible contraceptives at the lowest possible prices. The business made a considerable profit despite having prices being below those of the general trade, and the profits were used to finance RFSU's other activities.
Mail order sales from 1938 to today's online store
Mail order has always been a popular form of ordering, especially in rural areas. A modest mail-order and store sale was started in 1938. Condoms and spermicides were sold under the name "Hygiene articles" with E. Olsson as discreet sender.
But even before 1938, RFSU was selling condoms. Through union representatives at workplaces, RFSU founder, Elise Ottesen-Jensen managed to contact men who were willing to sell condoms to their co-workers. The trade took place from boxes hanging around their bellies and was usually done on paydays.
Since 1997, RFSU mail order sales have been developed via the Internet. Today, direct sales take place primarily via the RFSU web shop. The range has developed and today you can also order lubricants, pregnancy tests, intimate care products, nutritional supplements, sex toys and much more.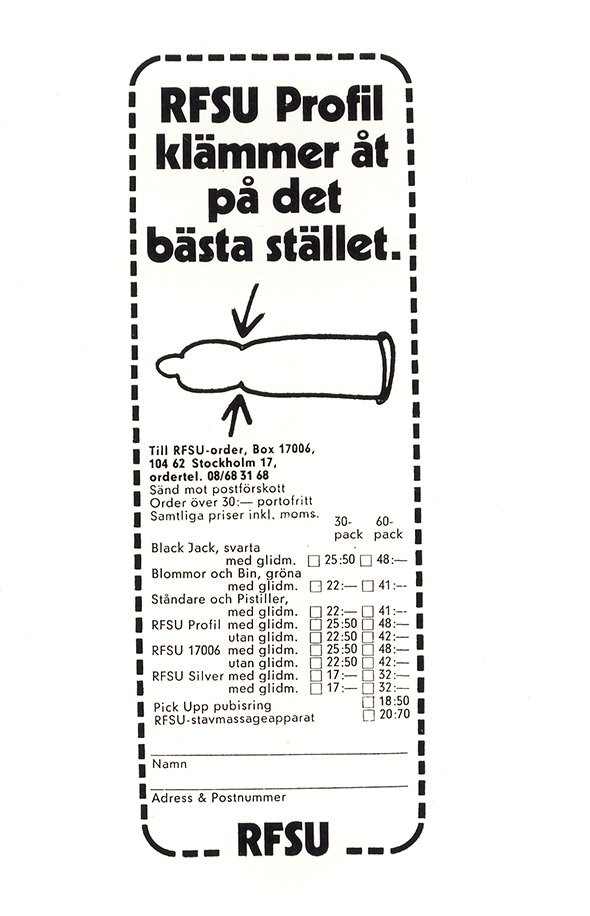 CONDOM MACHINES
The era of condom dispensers
It took until 1959 for condom dispensers to become legal. Previously, hygiene shops and hairdressers had been allowed to sell condoms with special permission. Condom dispensers thus took on a very important role in Sweden.
RFSU AB started to sell condoms via vending machines on a small scale in the early 60s, mainly at military installations. In 1964, RFSU began negotiating with property owners to obtain permission to set up vending machines on the walls of buildings, preferably near tobacco shops.
But that was not enough, permission was also required from the municipality, the child care board, the quartermaster and finally even the building authorities. They were not allowed to be set up near a school or in a place where it could cause offense, and were not allowed to sit too low so that minors could reach them.
Selling condoms without police permission
Until 1970, vending machines accounted for a significant part of condom distribution. However, there was a lot of damage to the machines and on July 1st 1970, when it became legal to sell condoms without special permission from the police, the trade in machines decreased significantly. Today, you can buy condoms in grocery stores, gas stations, pharmacies, kiosks and via e-commerce.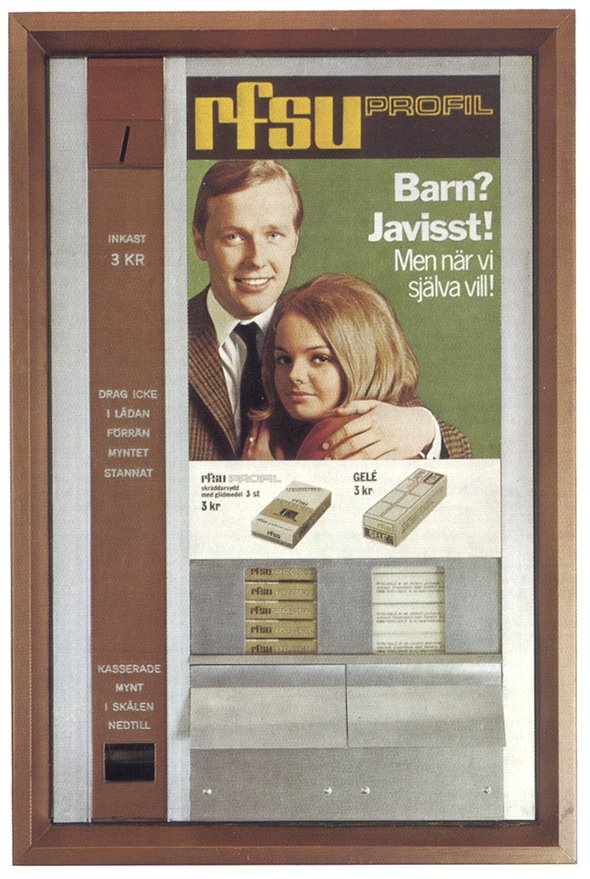 HISTORICAL CAMPAIGNS
Tonight, 107 Swedes will get gonorrhea – an iconic campaign
Restrictions on condom sales were not removed until 1970. By then, RFSU had already started its Blommor och Bin store chain, and launched the Profil condom, which was already considered a classic, and jokingly dubbed "the Volvo of condoms". RFSU also ran campaigns on billboards all over Stockholm, which were shocking to some at the time.
The nature of condom marketing changed during the 70s. Previously, you had to make do with small one-row columns at the back of the newspaper where discreet ads for "controlled goods" used to run. Now the ads got bigger and more to the point. Little by little, they turned into full-page, colorful ads talking not only about keeping sex safe, but also about pleasure and joy.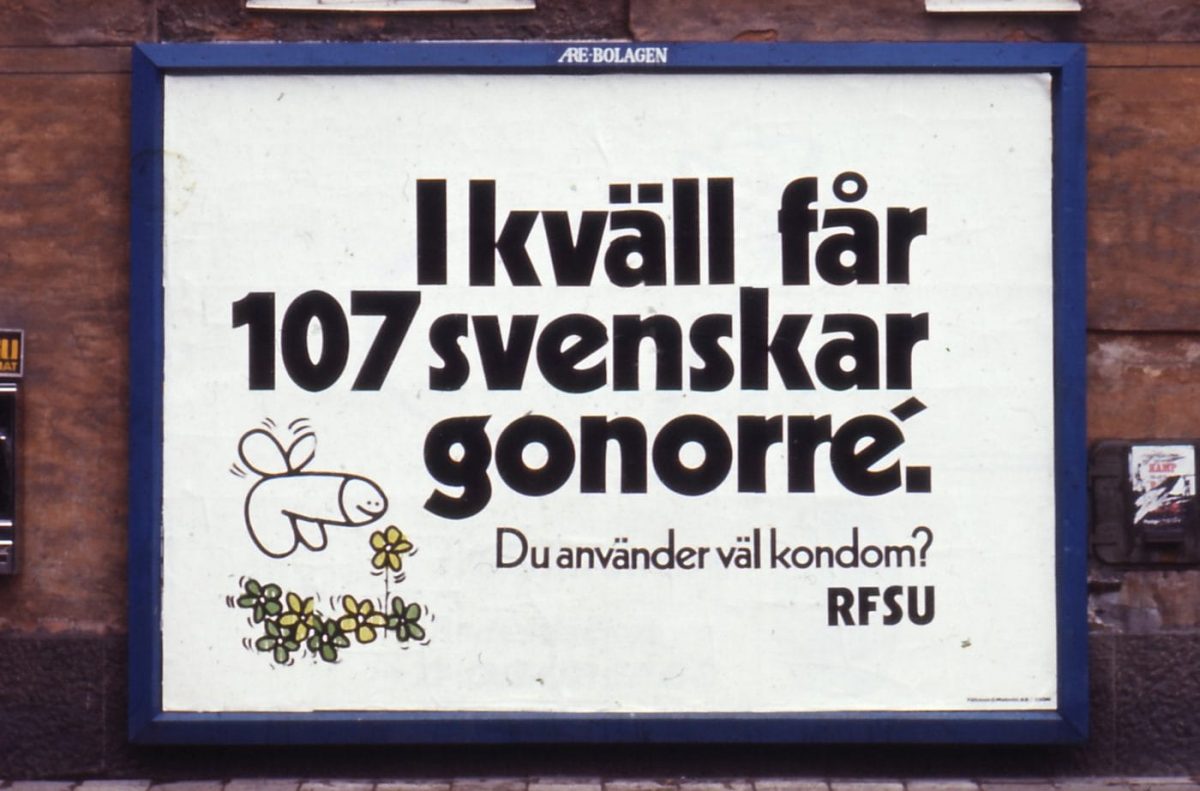 Restrictions on exposure
However, it was not completely problem-free. In the early 70s, a cartoon Profil condom in a full-page ad in the newspaper Expressen was censored by editors. They considered a penis-shaped condom in an ad to be offensive, to say the least. Thirty years later it was introduced in Expressen with the additional "30 summers ago Expressen refused to insert it".  Nowadays, condoms are accepted by everyone.
Condoms also offer protection against disease
RFSU was persistent in its quest to remove all the uproar about condoms. The campaign also had another side too, besides the child restriction. Sexually transmitted infections, especially gonorrhea, increased during the 60s. In fact, condoms were – and still are – the only contraceptives that protect against both sexually transmitted diseases and unwanted pregnancy. It is also the man's only contraceptive.
Even by 1960, RFSU produced two audio films, "The manufacturing and control of condoms" and "At the beginning of life." They contained factual information partly about contraception and partly about fetal development. They also made several still films about young people's position in modern society, the population explosion, international cooperation and about the eroticism in film. Before that even, a still film about pessary testing had been produced.
Be honest now – can she trust you?
Back in 1962, the RFSU unveiled a new ad that sparked debate and created a great deal of press. The ad featured a young girl and the background to the ad campaign was the high gonorrhea rates and the fact that more younger girls were getting pregnant.
Children? Sure – but when we want them!
One of RFSU's first information campaigns which, in 1965, contributed to a significantly more positive attitude towards contraception. With this type of advertising, RFSU was emphasizing that having children is something positive and not a risk. In connection with the advertising campaign, a brochure was produced called "Trygga tillsammans" ("Safe together"), which explained the various contraceptive methods.
"Tonight, 107 Swedes will get gonorrhea", was the name of a cult-like campaign that was started in the early 70s. It received an amazing response. Sweden became the first country in the world to succeed in reducing the spread of infection. Over the two years that the campaign was running, gonorrhea cases dropped dramatically – and the numbers held up. They are still relatively low in Sweden, but have unfortunately started to rise again.
Sweden's most sensitive penis is in Jakobsberg.
This ad, from 1968, was a response from RFSU to the National Board of Health and Welfare's proposal for new rules for the importation and trade of contraceptives. RFSU considered that the proposal lacked provisions on the control of contraceptives. RFSU demanded better control and better testing methods of contraceptives, which mainly meant condoms at the time. RFSU had been testing condoms from as early as 1946.
Chlamydia – more insidious than gonorrhea
That was the name of a campaign from 1984. Chlamydia was almost an unknown disease at the time. But thanks to the campaign, doctors and the general public became aware of it. Unfortunately, the disease had already managed to cause sterility in many men and women. Chlamydia is still the most common sexually transmitted infection, especially among young people.