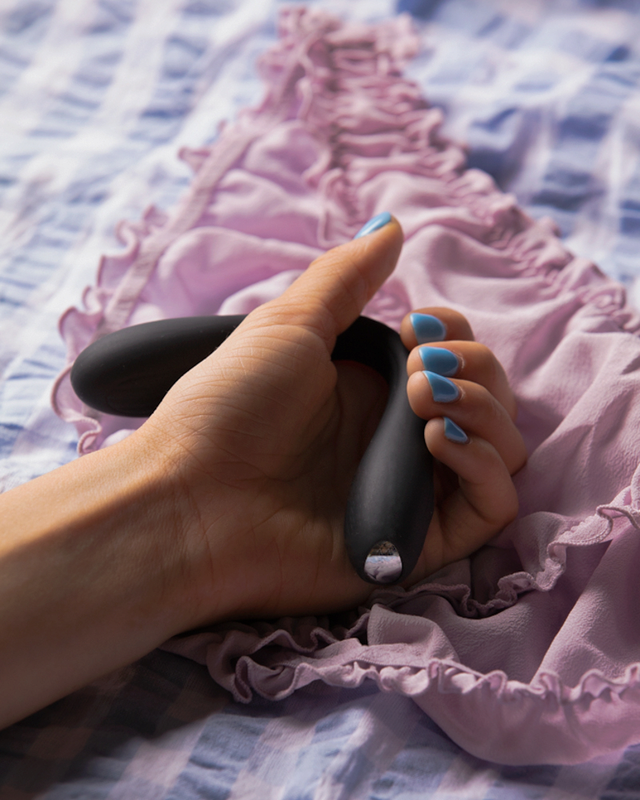 Sex Toy Guide – how to find the right one for you
Category:Guides, Sex & desire
SO MANY REASONS TO EXPLORE SEX TOYS!

You know how feel-good hormones boost you when you're engaging in pleasure and sex either with a partner, on your own or in some other way. Enjoying sex with the help of a sex toy has become increasingly common. Many people are curious about them, but perhaps haven't quite dared to take the step to get their own yet. Sex toys can help you find new ways to have fun, take part in foreplay, strengthen your body image, facilitate sexual pleasure if you have any motor impairment, or act as a fantastic complement to what you and your partner already have together. We also know that the majority of those who use a sex toy do it on their own and enjoy great sex without involving a partner. But knowing which sex toy to buy is not so easy, and for those with a vagina, the range is wide, to say the least. Here, RFSU sex educator Kerstin Tóth Isaxon guides you right through the large selection available today.
VIBRATING SEX TOYS FOR THE CLITORIS 
– For those with a vagina, stimulation of the clitoris is by far the most common way to masturbate, and also the easiest way for most people to orgasm. Then I would suggest a vibrator, says Kerstin.
Vibrators come in all sorts of materials, shapes and colors. From small lipstick-like variants that are a discreet sex toy, to large massage wands with a cord. The right one to choose depends on what kind of vibrations you like.
"The range of vibrators is large and has grown in recent years. Some need stronger vibrations, then there are larger rods or so-called wands. If you have difficulty achieving orgasm, this type of vibrator is the most effective. Many also appreciate so-called air pressure vibrators," says Kerstin.
If you're new to sex toys, you're in for a lot of excitement!
Our own RFSU Sweet Vibes can be a great sex toy to start with. It is a smaller vibrator that can stimulate the clitoris or vagina. RFSU Keep Me Close is a so-called panty vibrator that stimulates a larger area around the clitoris and the vulva, and is suitable to start exploring with. Keep Me Close is also a fun alternative and a good sex toy choice for couples or if you have difficulty grasping and holding things. Place the vibrator in the area you want to stimulate and let your partner control the vibrations with the remote control.
Find more vibrators from RFSU here
THE BEST SEX TOYS FOR VIRGINAL STIMULATION
When talking about vaginal stimulation, many people are attracted by finding and stimulating the so-called G-spot area – an area about 3-5 cm into the vagina, up towards the navel, which, with the right stimulation, can give you both fountain orgasms and a completely new experience. For many, the G-spot area is best stimulated by pressing on it or thrusting. You can also make a "come here" movement with your fingers or try out a sex toy. Our own range includes a vibrator specially designed for G-spot stimulation; the RFSU On Spot Stimulator.  
In the vagina, it is the area near the vaginal opening that has the most nerve endings that make it the most pleasant area to stimulate for many, Kerstin explains. Some people like deeper stimulation, so you have to experiment to find what gives you the most pleasure. Popular dildo sex toys come in a variety of designs – long, short, thick, slim, lifelike, smooth, vibrating – all of which provide different types of sensations.
Among RFSU's own sex toys, you will find the RFSU Excite Me dildo with a suction cup and which fits most strap-ons. Our RFSU Oh La La and RFSU Thrilling Vibes vibrators are also suitable for vaginal stimulation.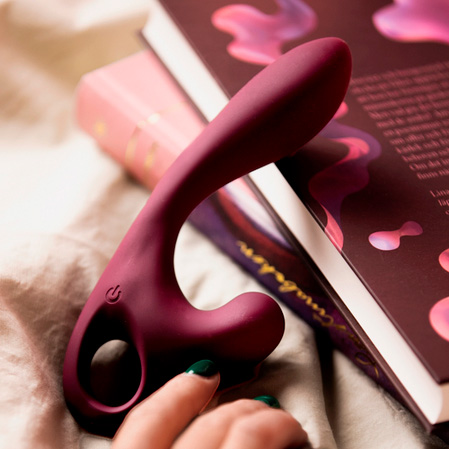 FUN SEX TOYS FOR THOSE WITH A PENIS
Although the range is smaller for people with a penis, there are plenty of sex toys to try out.
"For people with a penis, different types of toys that you insert the penis into are the most popular sex toys. They are often called masturbators or false vaginas," says Kerstin. A false vagina is like a tube that you insert your penis into to mimic the feeling of sex. Masturbators come in lots of different varieties, both with and without vibrations.
RFSU Natural Feel is a warming and vibrating masturbator that can be used regardless of whether the penis is erect or not. A small plate, placed close the top of the masturbator, vibrates and stimulates in a way that makes it easier for people with erectile difficulties to reach climax.
For those who have undergone gender reassignment treatment and have an acquired gender, a testo penis, masturbators or loose vaginas, for example, may not be the right size to really stimulate you well. Many people instead like so-called strokers, which are available in different designs and sizes, depending on how much clitoral growth you have. You can find examples of different strokers here. 

Another fun sex toy that can enhance the sensation for those with a penis is a penis ring. It tightens around the base of the penis and can provide both increased sensitivity and a harder erection.
"Some people think it feels a little uncomfortable, while others think it enhances the feeling. Using a penis ring is also good if you have difficulty maintaining an erection. However, to avoid possible tissue damage, you shouldn't wear the ring for longer than 20–30 minutes."
RFSU Pleasure Rings is a set of three penis rings of different sizes. One or more rings can be used, so work out which one/s feel best for you. Penis rings do not cost much and are a good entry-level product for both sex toy beginners and experienced users.
There are a few things to keep in mind when it comes to anal stimulation, please read "Things to keep in mind" further down.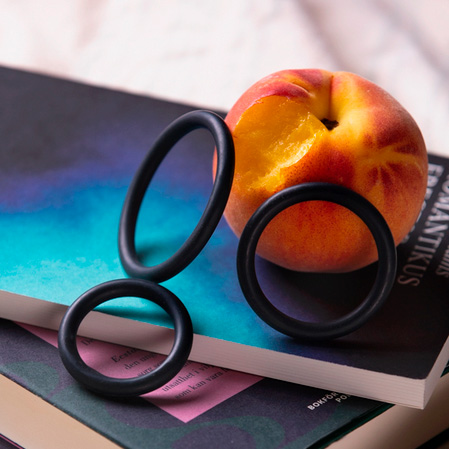 ANAL SEX TOYS FOR EVERYBODY
Many people mistakenly believe that anal stimulation is something only people with a penis can enjoy, but many with a vagina also get turned on by and enjoy anal stimulation. The anal canal has many sensitive points in everyone's body. Many women enjoy vaginal penetration even more when they simultaneously insert, for example, an anal plug into the anus. And for many men, stimulation of the prostate, deep inside the anus, is a wonderful pleasure point.
There are several different types of anal sex toys, such as plugs, butt balls, dildos and P-spot vibrators.
Many people think anal plugs are the best sex toy for stimulating the anus and the selection is huge. They can be colorful, made of glass, metal, have leopard tails, be full of bling, vibrate, etc, etc.
A perfect place to start for those new to the field and wanting to explore anal stimulation is RFSU Pleasure Plugs, a set of three silicone anal plugs that come in different shapes and sizes. The More Pleasure prostate vibrator is specially designed to stimulate the P-spot (prostate). The P-spot is a counterpart to the G-spot area of the vagina. The prostate is a gland that sits approximately 5 cm up the anus, towards the stomach. It is as big as a walnut and has a slightly rough surface. To stimulate the P-spot, you can use your fingers or sex toys that are specially adapted to stimulate that exact part. Many people find it nice to apply pressure on it, either constantly, or pulsating. You can also do a kind of "come here" movement.
Read more about RFSU's sex toys for anal stimulation here. RFSU Oh La La, RFSU Thrilling Vibes and the  RFSU Excite Me dildo can also be used for anal stimulation.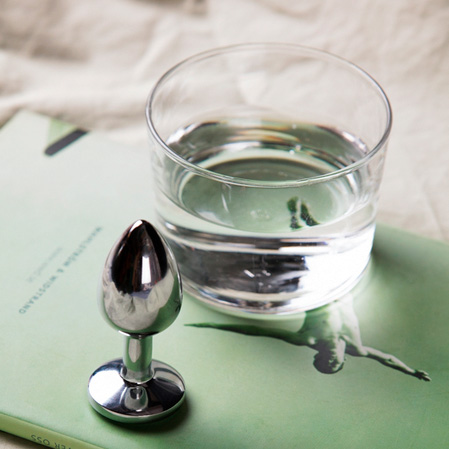 HOW TO GET HORNY WHEN YOU'RE READY TO PLAY
Sometimes it's hard to feel horny, so here are a few suggestions on how to get into the mood.
* Read sex novels – google, search in audio book apps, borrow from the library or check UMO's tips
* Watch movies – there are many movies with hot, sexual scenes in them – google around and find inspiration.
* Listen to audio erotica short stories – here are some we like, google for more! Oh Cleo, AVA Stories, Dipsea Stories, Blanche Stories 
Keep your eyes and ears open – RFSU is about to launch something that can help you and your sex toy reach new heights of pleasure.
WORTH KEEPING IN MIND 
Use a lubricant!
For most people, using lube with sex toys makes sex even more pleasurable. If you're wet enough, you don't need to use lube, but feel free to try it – most people find that lube enhances the sensation. When it comes to anal sex toys, we always recommend using a lubricant because the anus has no natural lubrication of its own.
Different types of lubricants depending on the material
* For sex toys made of silicone, use water-based lubricants or hybrid lubricants (a mixture of water and silicone lubricant). Do not use a pure silicone lubricant as it can damage the silicone surface of the toy.
* Silicone lubricant is always recommended for metal sex toys.
Penetrate slowly at first during anal stimulation
Take it gradually when inserting a sex toy into the anus, it takes a few seconds for the muscles around the opening to get used to it and give way.
Clean thoroughly
Some sex toys are suitable for use for both vaginal and anal stimulation. It is especially important to clean thoroughly especially after anal use. Bacteria from the anus should not be transferred to the vagina.
It's difficult for you to grab or hold on to things?
There are many aids and sex toys online for people with motor disabilities. If you are curious about RFSU's sex toys that can also suit those of you who have difficulty gripping or holding, we recommend you specifically check out RFSU Excite Me, RFSU Keep Me Close och RFSU Pleasure Rings.  
Buy sex toys from RFSU
There are tons of sex toys online, but even many drugstores actually offer a selection. We at RFSU thought it was natural to develop our own range of nice sex toys, after all, we have been active in sex and pleasure since 1933 and learned a lot. We have weighed both popularity and safe material choices, as well as inclusion and design when developing our products. Here you can read more about the entire range and how the various sex toys can be used.
Want to buy sex toys? Check out some of our dealers here
återförsäljare är! 
Last updated: 2023.06.07