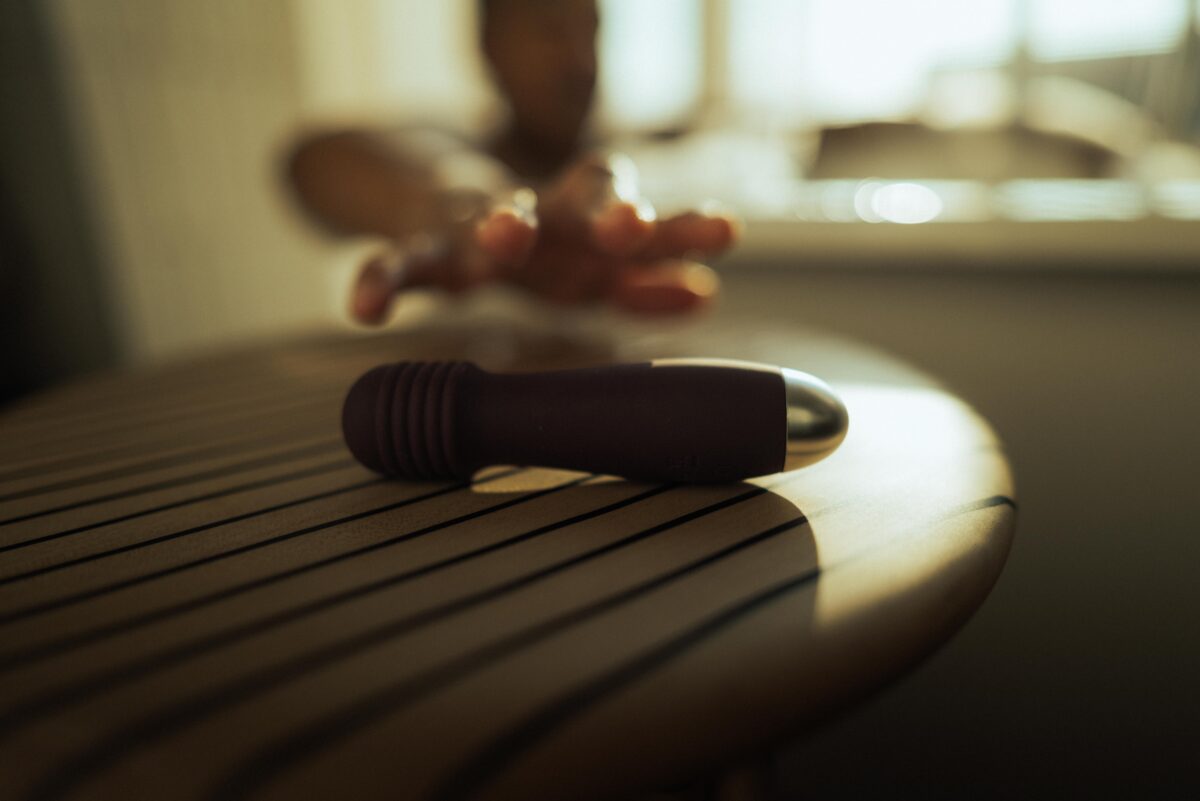 The Sexologist's tips: how to choose the right sex toy
Category:Guides, Sex & desire
Fancy trying something new and boosting your sex life? Then sex toys could be just the thing for you! But of all the different ones to choose from, which ones should you go for? Well relax. Here's RFSU sexologist Suzann Larsdotter's guide through the jungle of dildos, artificial vaginas, penis rings and vibrators.



Sex toys can provide amazing orgasms and give your sex life, both on your own and with others, a huge boost. But knowing which one to choose is not entirely easy, and for those with a vagina especially, the range is large to say the least.
"For people with a vagina, stimulation of the clitoris is by far the most common way to masturbate, so a vibrator can be a really great sex toy," says Suzann Larsdotter, sexologist at RFSU.
Vibrating sex toys for the clitoris
Vibrators come in all possible materials, shapes and colors, from small lipstick-like varieties to large massage wands with cords. Which one you decide to choose depends on what type of vibrations you like.
"Some people need stronger vibrations, then there are larger rods or so-called wands. If you have difficulty achieving orgasm, this type of vibrator is the most effective," she says.
Sex toys that use pressure transducers
In recent years, a new type of sex toy for stimulating the clitoris has also come on to the market – the compressed air vibrator.
"They give a sort of sucking, vibrating sensation. They have become very popular and some of them even have an orgasm guarantee," says Suzann Larsdotter.
For those who prefer vaginal stimulation, there are lots of different dildos to choose from and one important thing to take into account is, of course, size.
"Think about which size you like. Do you want a dildo that fills you, or a thinner version? To find out what feels good, you can test with different things you have at home – a candle or a pen for example. Put on a condom and try it out. Also think about whether you want your dildo to have a built-in vibrator or not," says Suzann Larsdotter.
Sex toys for those with a penis
Although the range of sex toys is smaller for those with a penis, there is still quite a lot to choose between.
"For those with a penis, various types of masturbators and vaginas are the most popular sex toys. A masturbator is like a tube that you insert the penis into to simulate the feeling of sex. Masturbators come in lots of different varieties, both with and without vibrations. Another sex toy that can enhance the sensation for those with a penis is a penis ring. It squeezes around the base of the penis and can provide increased sensitivity and a harder erection.
"Some find it unpleasant, while others think it enhances the feeling. Using a penis ring is also good if you have difficulty maintaining an erection. There are also rings with vibrations that stimulate both the penis and the clitoris. However, you should not wear the ring for longer than 20-30 minutes, otherwise you may damage the blood vessel."
Choose the material carefully
Sex toys are available in all possible materials, from softer materials such as jelly and silicone, to stone, glass and metal. Which material you choose depends on the feeling you want.
"Dildos, made for example, of glass and metal give you a harder, more stable feeling than silicone or jelly versions."
Choose products that do not contain phthalates, a substance used to soften plastics and which can be endocrine disruptors. Suzann Larsdotter, Sexologist, RFSU
Choosing the material carefully is not just about the feeling you want from it, it's also important for health reasons.
"Choose products that do not contain phthalates, a substance used to soften plastics and which can be endocrine disruptors. Silicone, on the other hand, is a safe, body-friendly material. I think you should avoid things that smell of chemicals, and maybe put a condom on it, so the toy itself does not come into contact with the mucous membranes."
The sexologist's best tips: How to choose the right sex toy
• Think about what type of stimulus you want. Do you like clitoral stimulation, vaginal stimulation or anal stimulation? If you have a penis, think about whether you want a sex toy that stimulates the glans or one that stimulates the anus and prostate.
• Select the right material. For example, do you want a dildo that is soft and flexible, or a harder version?
• Check the extra functions. Do you want the sex toy to be extra quiet or perhaps be water resistant? Decide which features are important to you and look for those particularly.
• Choose a sex toy that you think looks good. Most types of sex toys come in lots of different styles and designs. Stylish and stripped back or more natural? You decide.
Last updated: 2023.10.04