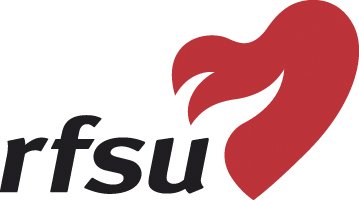 RFSU
RFSU's products makes sex both safer and more comfortable. Among our products you'll find condoms, pregnancy tests, sex toys and lubricants. All our products are carefully selected and sold with a single purpose; to work for a society where everyone's right to express their opinion and the right to their sexuality and body are respected. Se vores film, hvor RFSU's produkter agere helte med budskabet: For Your Fucking Freedom!
Read more about RFSU's history here.
It doesn't get any safer
When you buy a product from RFSU, you're choosing a safe product that is carefully selected. That is why our products meet the strict requirements for being sold in pharmacies.
The world's toughest condom control for the highest quality and safety
RFSU's condoms are of the highest quality, checked and tested according to ISO standard 4074 and RFSU's own standard. We follow MDD 93/42 EEC (Requirement for Medical Devices) and there are strict rules for control/manufacture/packaging/storage and distribution of condoms. Condoms are checked before, during and after manufacture. The number of condoms for testing is according to special sample extraction standards, in these checks the width, length and thickness of the condom are measured.
RFSU's tests are based on the European standard, but we have increased the requirements, for example, a condom from RFSU must meet a minimum limit of 20 liters / air in our air blast test. They should be able to be pulled out up to 40 cm in width and they should last for at least 5 years. Each condom is tested electronically and individually.
All tests is done by special staff at our accredited laboratory. It's not only the condoms that are checked, all material included to produce a pack of condoms is carefully checked before it is handed over to production, too. We have our certificates issued by Intertek Semko, and Swedac. In addition to MDD 93/42 EEC, we have accreditation certificates for the laboratory and quality systems according to ISO 9001:2015.
Products that make a difference
We at RFSU know sex and pleasure, and when you buy a product from RFSU, you are not just doing something to improve your own life and sex life. You so something for others, too!
All surplus from the sale of RFSU's products goes directly back to RFSU Förbundet and their work to spread knowledge about the body and sexuality around the world.
For The Freedom Of Every Body
RFSU's brand message: For The Freedom Of Everybody stands for just that, that RFSU and our products are there for everybody – and everyone's body.
When you choose to buy  condoms or sex toys from RFSU, you contribute, for example, to a teenager in Sweden getting a good sex education in school and help a woman in another part of the world to get a safe abortion.
If you want to read more about RFSU's work with sexual and human rights around the world, you can do so here.